Ben Simmons may be the most polarizing player in the city of Philadelphia since the day he was drafted. There was a time that Carson Wentz may have taken that title for a slight period of time, but in current day Philadelphia, it will always come back to Ben.
The former number one overall pick, who was billed as the next Lebron, has not exactly lived up to that hype. Ben's refusal to shoot the ball, has hovered around 16 points per game his entire career, tends to go through periods where he disappears on offense, and has a playoff game where he has only scored one point, in his rookie playing season, versus the Boston Celtics. There is an underwhelming and overall disappointed narrative surrounding Simmons and his playoff ability. Which has a lot of people throwing a red flag with this Sixers team going into the playoffs this season.
So, let's talk about it.
To preface this conversation, I don't subscribed to the idea that number 25 needs to take a certain amount of shots per game or score a certain amount of points per game in order for this team to win. The thing with Ben is that he does so much on the court more than just scoring that if his scoring is down, he can usually make up for it in other ways. Ben also tends to let the game come to him, allowing to use how the defense plays him in order to dictate what he does. Ben, in my opinion, will always try to make the right basketball play, which a lot of times will have him not shoot as much during the game. If they convert that into a recipe to win, that's ok with me.
The narrative that Ben shrinks in the playoffs, or that he will never be able to effectively play in the playoffs because he doesn't shoot, is slightly overexaggerated and unfair, in my opinion. Ben has been in the playoffs 2 out of the 4 years he has played in the league, this year is his fourth and barring something catastrophic he will be again. He has played in four playoff series, and the one series he missed, the Sixers got swept by a much better Celtics team that year. In the NBA it's rare that young guards, especially drafted high in the draft, make the playoffs that early in their careers, let alone be effective.
But Ben is much better than most guards that are drafted high and his floor is much higher then them, so he had a step up on those players. However, I don't believe that should mean he is going to come in and put the league on notice right away in the playoffs, there is still a learning curve. And considering he is a guard/wing who doesn't shoot, his learning curve could be higher considering he needs to find another way to affect the game without shooting.
Let's get something out of the way now, the Boston Celtics walled Ben off in the second round of the playoffs his rookie year and he scored 1 point in a game. That Boston series was in fact his worse series, I think. He averaged 14, 6, and 6 including that one point game, but was an overall -63. Ben was clearly exposed as a rookie that series.
To continue to look at second round match ups, because the Sixers and Ben have been fortunate to be a top the standings and play lesser teams in the first round, we can shift to the Raptors series. This series is where it gets interesting to me. Simmons averaged 11, 7, and 5 and was a -16. That Raptors series was statistically worse than his actual play.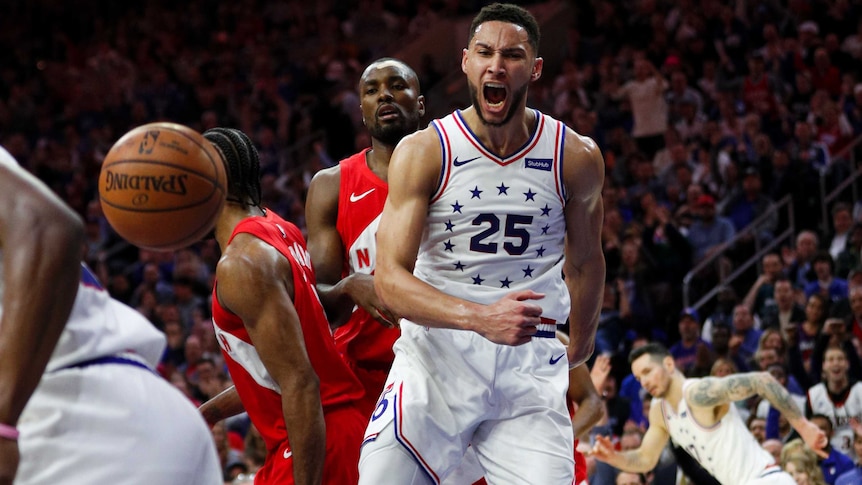 The Raptors series was really where Ben's defensive ability became center stage. When Ben was eventually put on Kawhi, he made Leonard's life way harder than the box score would show. Leonard was the closest thing to unstoppable that series regardless of the fact that Ben played some of the best individual defense you have seen in a long time. But it was Ben's offensive game that was the concerning point. His points per game dropped to 11.5 and was designated to the dunker spot and the offense centered around Joel and Jimmy.
Outside of one pretty bad game in the first round versus the Nets, Ben has been relatively good in the first round of the playoffs. Including a 31 point game versus Brooklyn and he pretty much dominated a bad Heat team in his first playoff series, averaging 18, 10, and 9 and was a +42.
So here is what we know, Ben is really good in the first round and struggles more in the second. Which makes sense when you think about it, the harder better defensive team is there in later playoff rounds. But, is this who Ben is, or can he get better and effective in the later rounds of the playoffs?
Ultimately, I just think it's too soon to tell. The Celtics clearly took advantage of a rookie ball handler with a lack of shot. The Raptors series he was basically just designated to the dunker spot and out of the offense. And last year obviously he was hurt. What I am trying to say is there just isn't enough evidence yet.
This year's playoffs could be very pivotal for Simmons. He still lacks a jumper, and aggression at times, but I do believe aspects of his offensive game have changed . We are starting to Simmons more in an off-ball role, as a cutter or roller. I wrote about Ben and his ability to play off ball (see above) using bball-index.com last year prior to the bubble, and when researching what I found out was Ben was actually good as a roll man and a cutter. This is where Ben can try to be more productive come playoff time.
This may also be the first season that Simmons really has good enough complimentary pieces around him to succeed. The addition of George Hill, a veteran playoff experienced ball handler, should also help open up Ben more as a roller and cutter. What's important to notice in the chart above is Ben's rim gravity off a roll. He is in the 98th percentile, meaning that when he rolls to the rim off setting a screen teams are taking notice. Unfortunately, his impact and usage in the PnR are minimum, but that was with Brett Brown who didn't run the pick and roll as much, and no real ball handler who could do it and find Ben on the roll. Now with guys like Hill, Curry (to an extent), and Tobias and a coaching staff that wants to run the pick and roll and create mismatches we can see a way Ben can be used effectively come playoff time.
None of this clears up the ultimate concerns when it comes to Ben Simmons in the playoffs, aggressiveness and shooting or lack there of. We, as fans, have watched Ben tear through a month or two of really good basketball, and have seem him play below his potential for a good length of time too. It's tough to really judge what Ben will show up as they get later in the playoffs, history, though, isn't on Simmon's side. I do believe there is a learning curve for the playoffs especially, and while statistically Ben is right around the same as he has always been, he is older and more experienced, and is now playing for a playoff-torn experienced coach in Doc Rivers , in a new and slightly different role. All of which should benefit him and the team going forward, but there will be times when he needs to take it upon himself and step up. We've seen him do it defensively, now let's see if he can up his offensive game late in the playoffs.